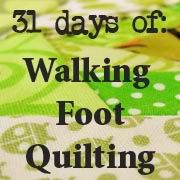 I love Pinterest. I can spend hours exploring and pinning photos of gorgeous quilts which in all honesty I'll never have time to make and all that time browsing doesn't help get my pile of UFOs finished!!!
Today I came across something which might help -
31 Days of Walking Foot Quilting
. I've not looked at all the 31 posts on this Petit Design Co Blog series, but what I have looked at had me sitting up and 'wowing'. There are some useful basic tutorials in the first few posts but then there are some really novel suggestions for walking foot quilting designs. One of my favourites is
'Topography'
- a variation of echo quilting done large across a pieced quilt top. There are some great shots of finished quilts in the 'Sunday Inspiration' post too.
Happy Quilting!
Hazel x